AYN-500H010 5ATM Waterproof Acoustic Vent Membrane
Product Detail
Product Tags
PHYSICAL PROPERTIES

 

REFERED TEST STANDARD

 

UNIT

 

TYPICAL DATA

 

Membrane Color

/

/

White

Membrane Construction

/

/

ePTFE

Membrane Surface Property

/

/

Hydrophobic

Thickness

ISO 534
mm
0.03±0.005
Air Permeability
ASTM D737

 

ml/min/cm2@7KPa
NA
Water Entry Pressure
ASTM D751

KPa for 30 sec
>500 KPa

Transmission Loss  


(@1kHz, I.D.= 2.0mm)

Internal Control

dB
< 8 dB
IP Rating 


(Test I.D.= 2.0mm)

IEC 60529
/
IP68

ISO Rating  


(Test I.D.= 2.0mm)

ISO 22810
/
3ATM

Operation Temperature

IEC 60068-2-14
C
-40C ~ 260C
ROHS

IEC 62321
/
Meet ROHS Requirements

PFOA & PFOS

US EPA 3550C & US EPA 8321B
/
PFOA & PFOS Free
Transmission Loss of AYN-500H010 acoustics membrane < 8 dB @ 1KHz, and < 8 dB in the whole frequency range.
AYN-500H010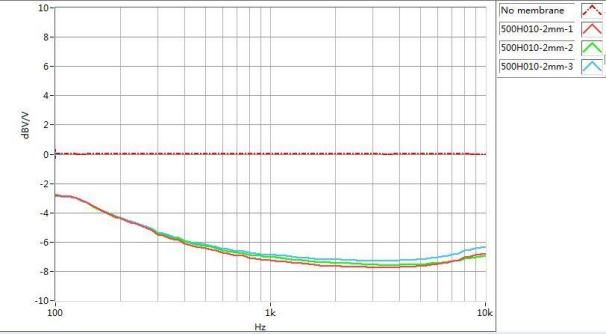 NOTE:
(1) Acoustic Response and IP Grade test part dimension: I.D. 2.0 mm / O.D. 6.0 mm.
(2) The results are tested using a typical digital output MEMS microphone system and self-designed test device in AYNUO laboratory
with representative sample size. The design of the device will affect final performance.
This series of membranes can be used in waterproof and acoustics membrane for portable and wearable electronic devices, such as Smart Phone, Earphone, Smart Watch, and Bluetooth Speaker, Alertor etc.
The membrane could provide the device with immersed waterproof protection and minimal sound transmission loss, keeping the device with the excellent acoustics transmission performance.
Shelf life is 5 years from the date of receipt for this product as long as this product is stored in its original packaging in an environment below 80° F (27°C) and 60% RH.
All data above are typical data for the membrane raw material, for reference only, and should not be  used as special  data for outgoing quality control.  All technical information and advice given here is based on Aynuo's previous experiences and test results. Aynuo gives  this information to the best of its knowledge, but assumes no legal responsibility. Customers are asked to check the  suitability and usability in the specific application, since the performance of the product can only be judged when all  necessary operating data are available.
---
Previous:
AYN-100D25
---
Write your message here and send it to us